A lot of people love Springerle, an aniseed flavored Christmas cookie – and a lot of people are really scared to bake them by themselves. But to be honest, you won't need any witchcraft to succeed, just a beautiful Springerle mold, time and as always a lot of love while doing it. It is essential to dry the unbaked cookies overnight, or at least 12 hours before baking. Otherwise the beautiful patterns will not stay stable and run away in the heat. Well done Springerle need to "pop-up" during baking in order to get a little foot, in german we say they need to jump and that is also where the name is from ("little jumper").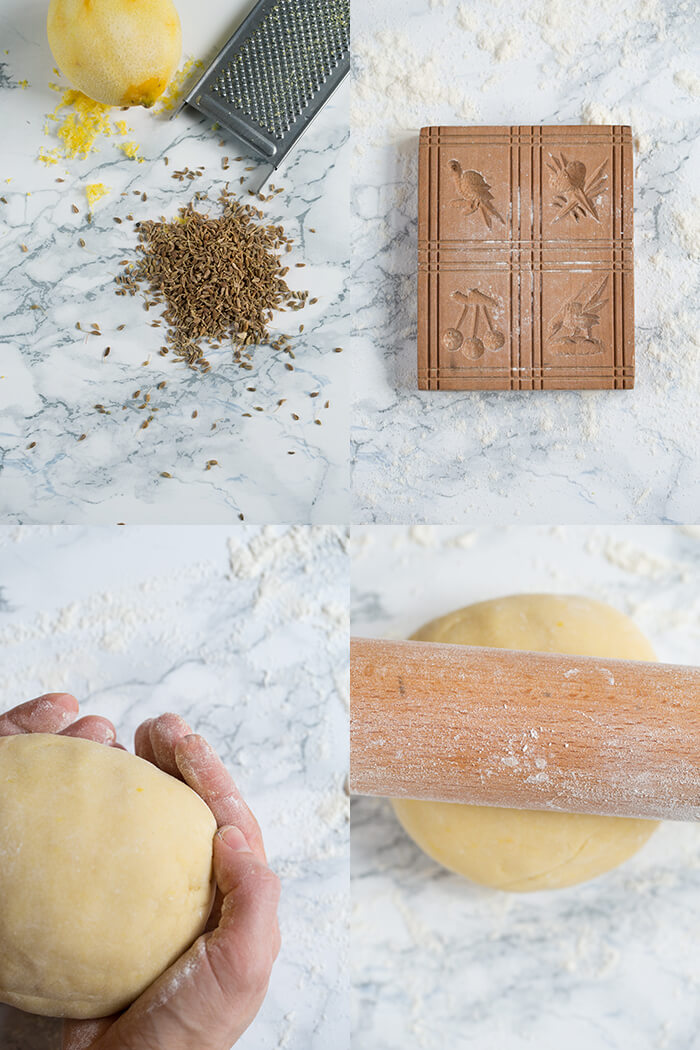 There are a lot of recipes with aniseeds or aniseed extract in the dough. For my taste this is to intense, so I prefer to just set the cookies on a greased and aniseed sprinkled baking tray. But this is a bit up to your taste, just try it out. While rolling out, work with small amounts of the dough, so the moisture stays inside. Take care to finely dust the molds with flour, to get sharp pictures and to be able to lift the mold without destroying the pattern. Cut the dough into pieces.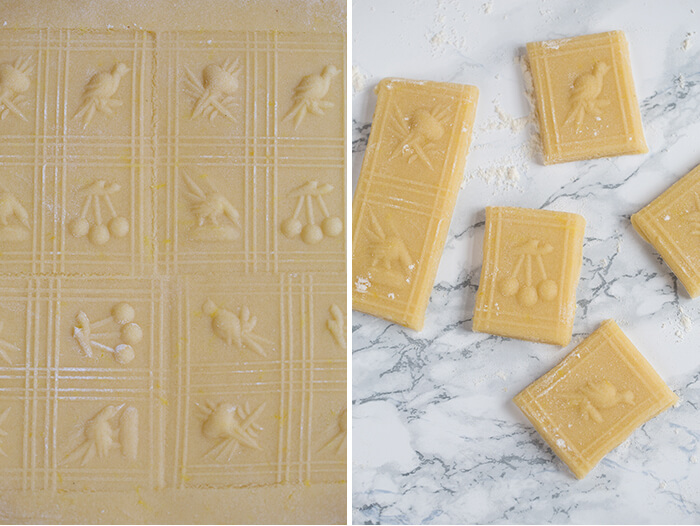 The baked biscuits are hard. Put them into a tin can, best with a ripe (but not to aromatic) apple for 2 – 3 weeks until they "ripe" and get tender. Springerle are little beauties! You will always get a "wow" for nicely made Springerle so don't be scared, just try it out! They also make a beautiful small gift, if you are invited for a tea afternoon during advent season.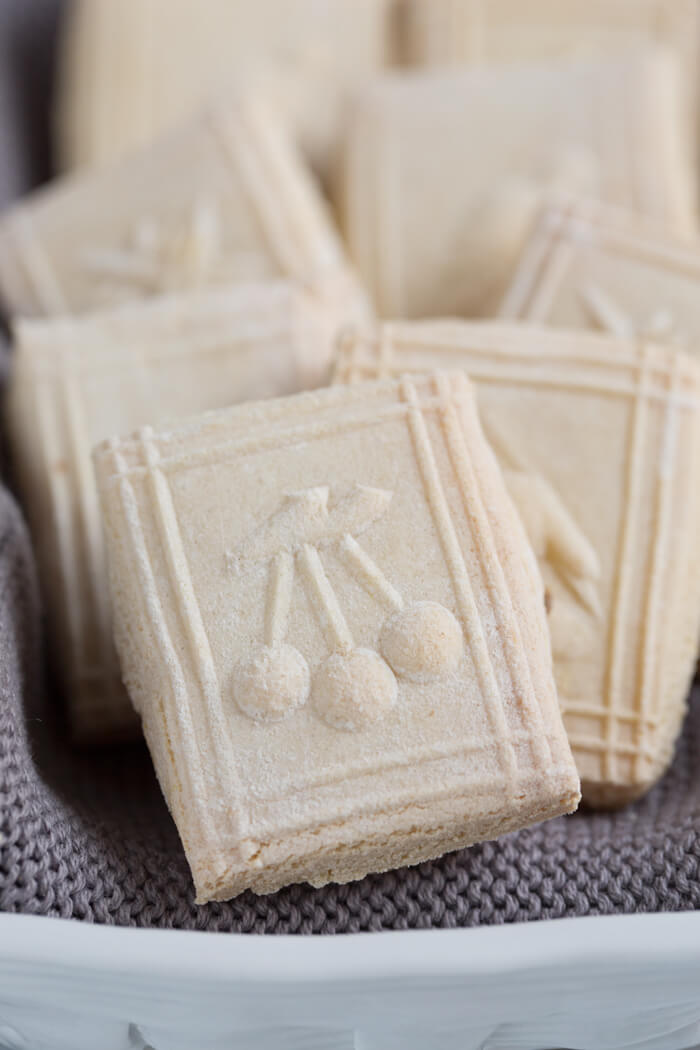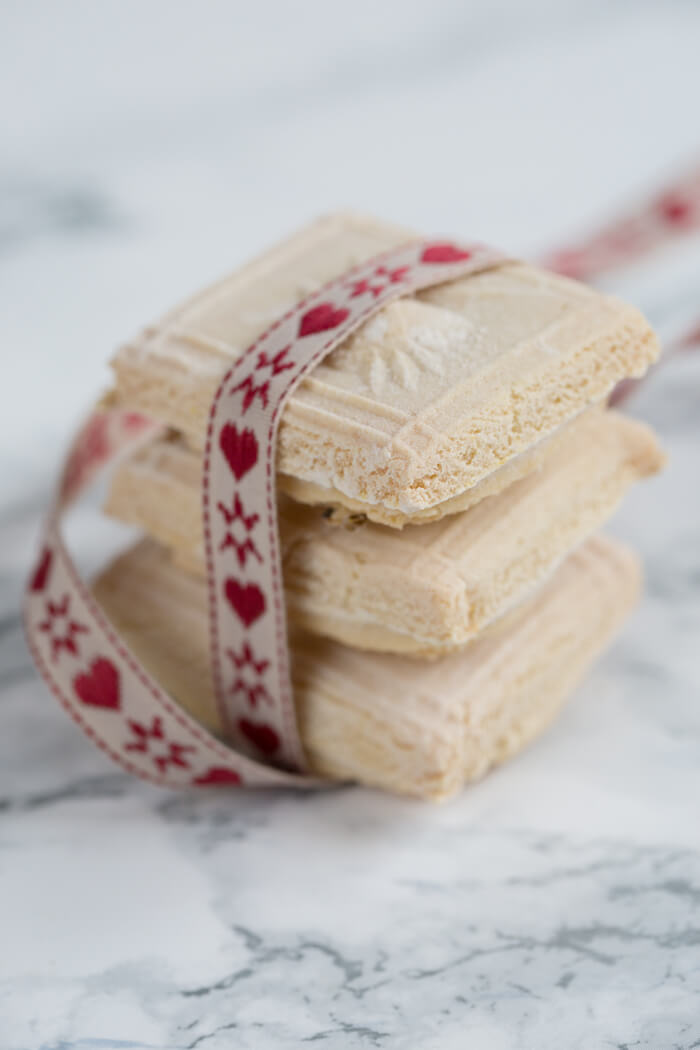 One word to my recipes. I know, it would be much easier and a lot more convenient to a lot of you, if I would not only write in grams and millimeters… I am a bit of a perfectionist and I really want to do it soon, but it is a big step for me, to just write the recipes down like it is now. Normally I would not even start doing something, I know it won't be perfect. So I am quiet happy I am ignoring this feeling and posting the pictures and recipes anyway, although they are not "perfect".
Christmas Cookies Part III – Springerle
A classic german Christmas cookie
Recipe type:
Christmas cookies
Ingredients
4 eggs (220g without egg shells)
500g extra fine sugar
fresh zests of one lemon
500g flour all purpose flour
1 tablespoon aniseeds
butter for the baking tray
Instructions
Divide the eggs into the whites and the yolk.
Whisk the whites
Slowly add sugar and egg yolks and whisk until the sugar dissolved
Add the fresh lemon zests and the flour
Knead the dough and put it into the refrigerator for 2 hours
Take the still slightly sticky dough and roll it out on flour so that it is 8-10 mm thick.
Lightly dust with flour. The dough feels very smooth.
Now press the finely dusted mold evenly into the dough.
Cut out the pattern with a knife or pastry roller.
Place on a baking tray that has been buttered and sprinkled with the aniseeds.
After a drying period of 12-24 hours (room temperature), bake the Springerle at approx. 150-160ºC at the very bottom of the oven for about 12-15 minutes. Be careful not to overbake them, they should remain white (you can put some tinfoil on top as soon as they start to darken in order to keep them nice and bright).